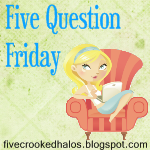 1.
Did you make any fun purchases this week?
Not this week but today I'm going and picking out a new camera. It's my birthday present from my mom and sister :)
2.
If you could go to any musical concert, what would it be?
Taylor Swift. I've gone to her's before and it's amazing :)
3.
What is your least
fav
/ most
fav
house chore?
Dishes. I have this phobia of dirty dish water.
4. W
ould
you prefer new appliances or clothes?
Clothes!
Either, I honestly can't taste a difference.